12モンキーズを英語字幕で再視聴中。カワウソの瞳くんの旅をじっくり振り返っております。従って以下、ネタバレしかありません。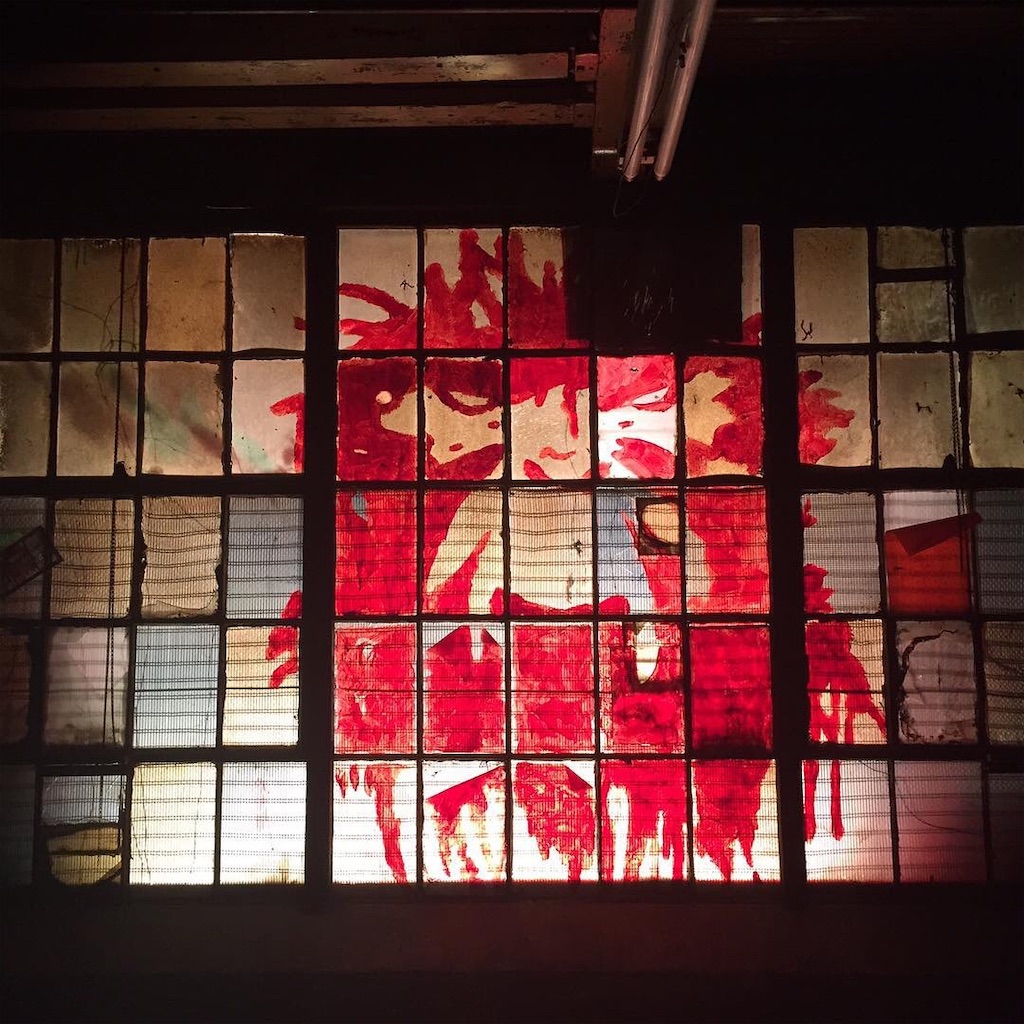 Ramse: This is your problem. You got no plan. You rush on that hallway, naked he's gonna get you.God damn it!
Samuel: Got you.You're both dead.
Ramse: Nice job, buddy.
Cole: You're supposed to be watching my back, man. You're high-fiving the enemy? 
Samuel: Dead means no talking.
Ramse: Oh, man, I think I got a flesh wound.
Cole: Avenge me, brother.
何事かと思えば、ラムジーの息子サミュエルくんと全力で遊んであげてるコールたんとラムジー。和むー。こんな状況じゃなかったら、コールたん、サミュエルくんのこと全力で可愛がるだろうなぁ。 
Samuel: Is Cole going back in time again?

Ramse: Probably.

Samuel: You going with him?

Ramse: No. I got a more important job.

Samuel: You could've stopped a lot of people from dying before. And you didn't. I know you love me, but it's not just about my future.It's about everyone's.
 サミュエルくんってばなんて利発に育ってるの。とっても大人な発言。いい子だなぁ。
Cole: We?
Ramse: You're all leap, no look, little brother.You're gonna get yourself killed.
Cole: My hero.
Ramse: It's either that or Jonesey sends me back in time to save your ass again.
Cole: You're crazy about me. Just admit it.
というわけで、コールたんのお供をすることにしたラムジー。サミュエルくんのことでややこしくなる前は、本当はラムジー、ずっとそうしたかったはずだよね。過去に飛んで厳しい戦いを強いられるコールたんを一人にで行かせることは心配でたまらなかったはずだし、できることなら一緒に戦いたいって思ってたはず。コールたんも一番安心なはず。

Ramse: With that hair, you're gonna fit right in.
Cole: Just try and stay out of traffic this time.
Ramse: You got to be kidding me.
こんな風に軽口言い合っている二人をみられるのが嬉しい。
ついでに、このときのスプリントするときのコールたんのショット、めちゃくちゃかっこいい。 
Ramse: Coffee's not bad.
Cole: I'll stick with this. This is good.
Ramse: You ever had coffee? 
Cole: Yeah, I used to make coffee all the time when we were scavs.
Ramse: That wasn't coffee.
Cole: What do you mean "that wasn't coffee"? What was it?
Ramse: She's coming.
Cole: Seriously, what was it?
コールたんは基本的にラムジーからモノゴトを教わっているはずだから、放浪時代にコーヒーをいれていたっていうのもラムジーから教えてもらって覚えたことだと思んだけどなぁ。ここにきて「あれはコーヒーじゃない」って言われちゃったら、おれがコーヒーと思って飲んでたのはなんなんだってことになる。ラムジーが教えたんじゃなかったとしてもずっと一緒だったんだから、コールたんが何をコーヒーと思い込んでたのか知ってたはず。
Cole: I know that look.
Ramse: What look?
Cole: The look that says you're about to father another child and change the course of history. Let's not get involved with the locals, okay?
Ramse: You're the authority?
コールたんのイメージだとラムジーは恋多き男。
Cole: That's our Primary. Jesus Christ, that's the guy we're supposed to protect? This is me looking and not leaping. This sitting right with you?
Ramse: I don't like it any more than you do. It's how it has to be.We go changing things now, we're gonna make it worse. We don't want to be here any longer than we have to.
Cole: We or you?
Ramse: It's not the plan, Cole.
Cole: Hey, asshole.
理屈がどうあれ目の前で女の人が襲われ、殺されそうになっているのを黙って見ていられるコールたんではないのでした。
Cole: Argh! Something's changing.
殺されるはずの人を助けちゃったので、タイムラインがなにやら変わっちゃったようですよ。
Cole: He knows where The Witness is.
Ramse: What are you talking about? Cole? Don't do that. Don't do that! 
Cole: Get in.
Ramse: That's a cop car. Oh, I'm an idiot. Oh, I'm an idiot.
 その場その場でどんどん行動していくコールたんに振り回されまくりのラムジー。コールたんは走り出したら止まりません。止まることも考えません。警察に銃をつきつけて逮捕されたカイルを奪還するという無謀。
Ramse: Cole, our mission is to protect the Primary. What are you doing?
Cole: Kyle, you take me to him?
Kyle: Bronx River Avenue. I can show you.
Ramse: Hold on.
Cole: Hold on? It's The Witness, the guy behind the apocalypse, the anomalies.If he's here, we have to find him.
Ramse: Cole, this guy he jerks off in his basement and he thinks about hacking off limbs. You want to trust him now? 
Cole: If there's even a chance we can find The Witness I have to take it. We could end this thing right now.
Ramse: Not by going off half-cocked! I got a kid.
Cole: Really? I haven't heard that before.
Ramse: You're just as crazy as this piece of shit. Idiot, you don't listen. You never listen! You're all leap, no look. You remember?
Cole: This was always my mission, not yours.
Ramse: Cole!
行動力があるといえばあるんだけど、コールたんはやっぱりかなり向こう見ずなところがある。たぶんそれはこのミッションに限ってのことではなくて、昔からそうなんだろうけど。しかも目標が見えなくなっちゃうともうそれしか考えられない視野狭窄ぶり。ミッション遂行したい気持ちはわかるけど、ラムジーの気持ちもちょっとぐらいは考えてあげてー。
Jennifer: What did he say to you?

Cassie: He, um He told me he wants to destroy time So there'd be no more death.He made it sound almost beautiful.

Jennifer: Well, it's not. Death is like everything. It's a time clock that makes us better. Makes us love harder. I don't know, I think it's, like, maybe what makes us human.
ジェニファーがいてくれることのありがたみ。
Cole: I was out for blood back there. I know I almost got you killed.I just thought we could get him, so I did what I always do, rush in. Anyway, I'm sorry.

Ramse: It's all right. I used to think you were insane. I realized it's something else, right? Something in here. Never gonna change and it shouldn't. I think one of these days, it's gonna help us out of this mess. Until then, somebody's got to have your back.

Cole: Listen, man, you know I love you.

Ramse :Oh, what are you doing?

Cole:  What?

Ramse :You don't say that.

Cole: Say what? Ramse: You never say that.

Cole: No, I was gonna say I love whisky, and we should go find some and drink it. Ramse: No you weren't You were gonna declare your undying love for me, brother. Cole: Don't flatter yourself, okay?

Ramse :I heard you.

Cole:You're emotional right now. I heard that happens to new parents.

Ramse: Listen, I'm not being emotional. You're being an asshole, okay?

 

Ramse: Me too.
 "目撃者"の目が黒くなったり、曲の入りかたといい、このブロマンスぶりといい絶対にスタッフさんたちの中に熱狂的なスパナチュファンがいるだろう!!とついつい突っ込まずにはいられないけど、ここはやっぱりコールたんとラムジーの信頼関係が完全に回復してすごく嬉しいシーン。しかもラムジー、結構正確にコールたんの役割を見抜いているのが嬉しい。"お前おれのこと好きなんだろー"ということがあっても、"お前が好きだ"とは言ったためしのないコールたん。ラムジーに言ってもらえたことがすごく嬉しかったんだとおもう。ラムジーが理解してくれるなら、コールたんはどんなことにも立ち向かえるんだろうなぁ、きっと。